$0 for all eligible insurances.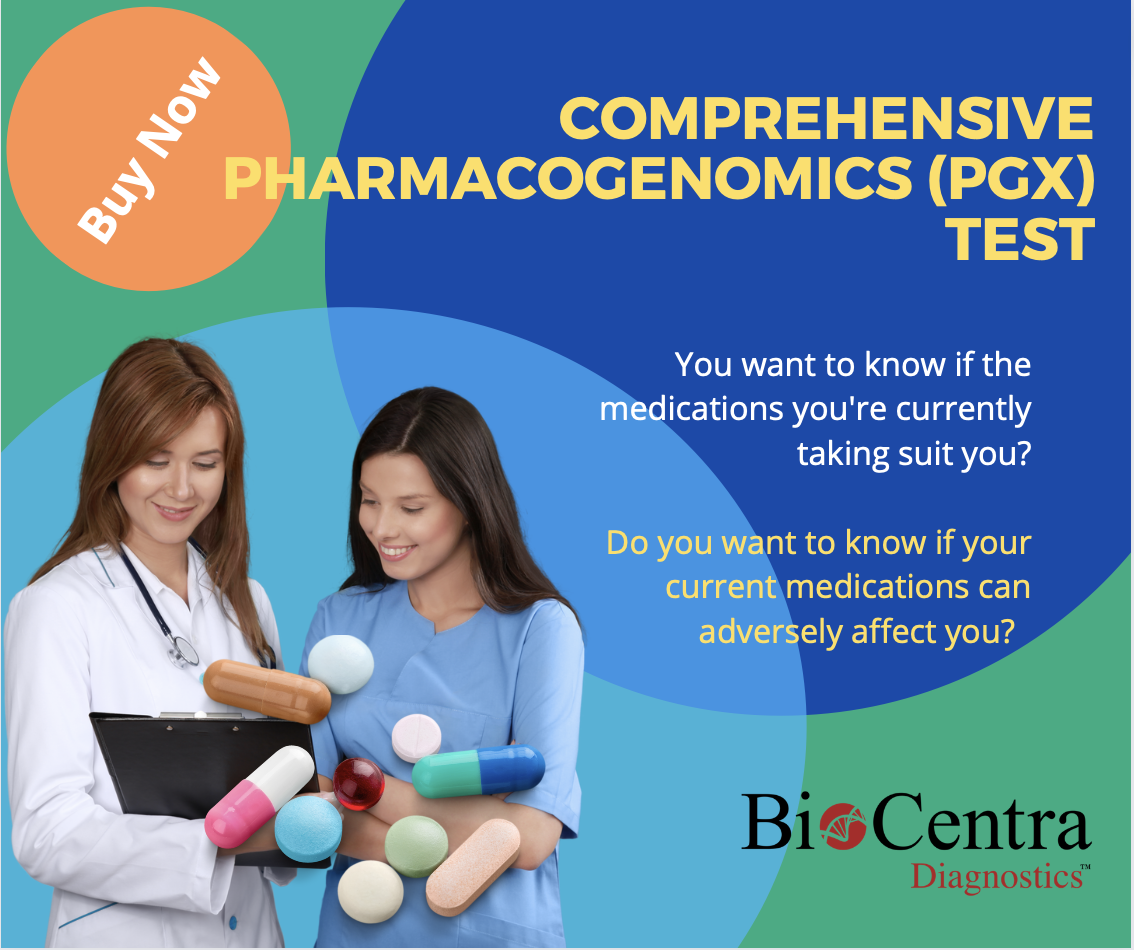 BioCentra Diagnostics is offering the most comprehensive PGx. You don't need to leave the comfort of your home to get tested. Simply place the order and we'll send the test kit over to your home. One the sample is collected, you will mail it back to the lab in a pre-stamped envelope. Your test results will be ready in 4-5 days. You can discuss your results with your healthcare provider or ask us to connect you with a genetic counselor or a pharmacist for advice.
What makes it a medical necessity?
It gives providers a better understanding of how patients will respond to a medication which can be live saving. It takes away the guess work, the trial and error for the class of medications which are tested. It also cuts cost due to hospitalizations due to drug reactions and also decreases costs due to multiple medications that may not even work for that patient.
Who qualifies for PGX Testing?
Patients taking multiple drugs (3 or more) for 1 or multiple illnesses and may not be experiencing the expected results. Also, if the patient has a history of adverse reactions to medications or a family history of such. The types of medications tested include but are not limited to the following: Psychiatric, Analgesics, Cancer medications, cardiovascular medications (including anti-coagulants). Eg: Warfarin, Tricyclic antidepressants etc.
Individuals with particular genotypes may find their metabolism capabilities for certain prescription drugs range from extremely poor to extremely fast, and may need to avoid or adjust to a higher or lower drug dosage in order to achieve a therapeutic effect. This test analyzes high-evidence markers for genes/loci of known Pharmacogenomics value allowing clinicians to gain valuable insight into an individual's ability to metabolize drugs based on their genetic makeup. The Pharmacogenomics panel reports genetic information only, currently we are not reporting medication information.
Pharmacogenomics (PGx) Test can be a life-saving solution for anyone who understands that our health is unpredictable. At the onset of a health-related problem like a cardiovascular, gastrointestinal, neurological, psychological, metabolic, or a physiological dysfunction, your specialist physician will not resort to trial and error of different medications but will shoot rather straight with the information that he'll have at hand by using information of about effectiveness, dosage, adverse reaction and metabolism of a range of drugs when you encounter a life-threatening event. Moreover, this test is usually performed once in a lifetime. You will get a drug-gene card that with a code. By inputting this code, your specialist physician will be able to retrieve your complete test information and prescribe the right medication for you. Whether you are suffering from obesity, diabetes, depression, anxiety, pain, hypertension, arthritis, dementia, or gastric reflux, you need this test.